RA Double Box Baling Press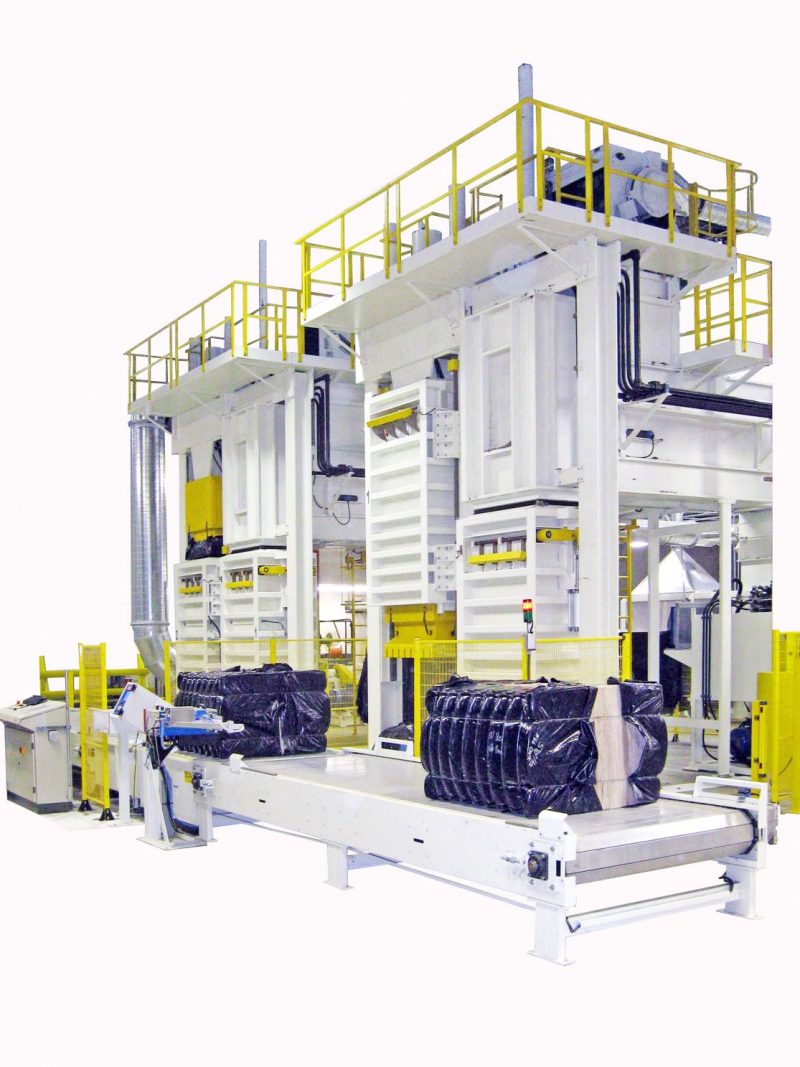 Processable materials: clips and fibers of natural and synthetic woven and non-woven textiles
Production rate: up to 3000 kg/h
Bale dimensions: 75 x 115 x 115 (H) cm
Installed power: RA/70: 34.08 kW - 70 tons; RA/200: 52.58 kW - 200 tons; RA/300: 59.58 kW - 300 tons
Overall dimensions: RA/70: 6000 x 4700 x 7470 (H) mm; RA/200: 6100 x 4900 x 8250 (H) mm; RA/300: 6100 x 4900 x 8750 (H) mm
Installed worldwide: 46 units
Machine Description
The Press model RA is an above ground revolving press with two monoblock boxes for non-stop baling.
The material is fed by the condenser into the box of the pre-pressing unit. When the pressure in the pre-pressing cylinder reaches the pre-set value in the pressure switch, the feeding and pre-pressing cycle ends and a visual and acoustic signal informs that the box carousel will rotate in order to dispose the machine with the full box in the final pressing position and the empy one in the pre-pressing position. In the pressing section where the full box has turned in the final pressing piston descends and presses the fibres. The box lifts up automatically when the pre-settled pressing value is reached, leaving the pressed bale free on all its four sides ready for strapping. After strapping, the bale can be automatically tilted on the floor for manual pick-up by a fork truck.
On request, the press can be supplied with an automatic bale handling system where the bale is automatically unloaded by a moving doffing cart and conveyed on the rollertrack for the following operations (weighing – labelling – stacking or holding).